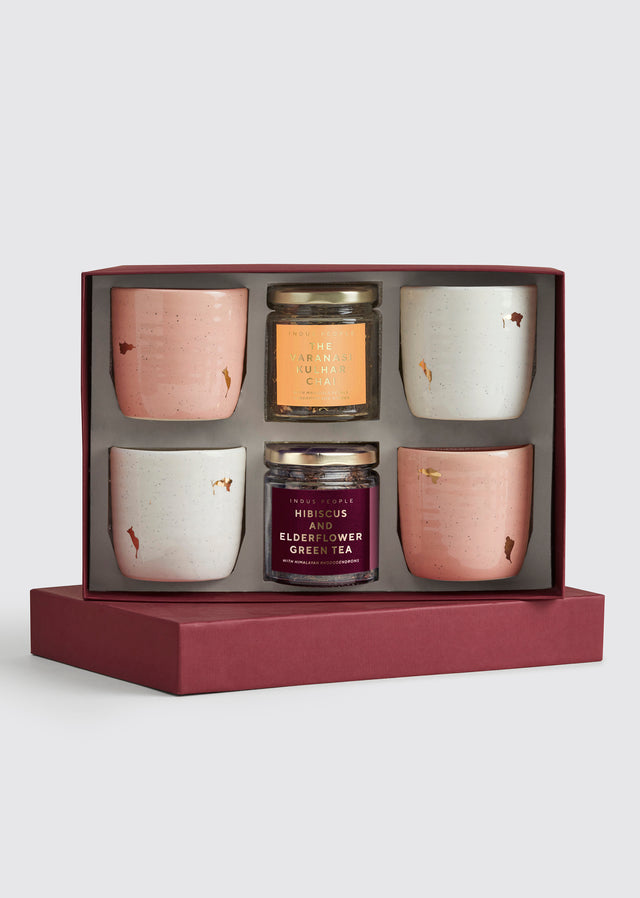 THE CHAI-TEA GIFT BOX
4 Ganga Kulhars + 90g Varanasi Kulhar Chai + 60g Hibiscus & Elderflower Green Tea
This is a complete gift set for any Chai-lover.
THE KULHAR CUPS
Diameter: 3 in., Height: 3 in.
Material: Stoneware with 24 carat Gold
Wash and Care: Not safe for Microwave and Dishwasher.
Handwash with mild detergents.
VARANASI KULHAR CHAI
This tea pays tribute to the famous Varanasi Kulhar Chai and literally transports you to the narrow lanes of this holy city.
Ingredients: Black Assam Tea with Ginger, Cardamom and Marigold Petals
Brewing instructions: Boil with milk and water for 4-5 minutes. Add 1 tsp. of sugar.
THE HIBISCUS & ELDERFLOWER GREEN TEA
This fragrant and flavoursome green tea blend helps calm your senses and relaxes your mind any time of the day.
Ingredients: Sencha Green Tea from Darjeeling with Hibiscus, Elderflower and Himalayan Rhododendron.
Brewing Instructions: Boil at 90 degrees Celcius for 2-3 minutes. Serve hot.