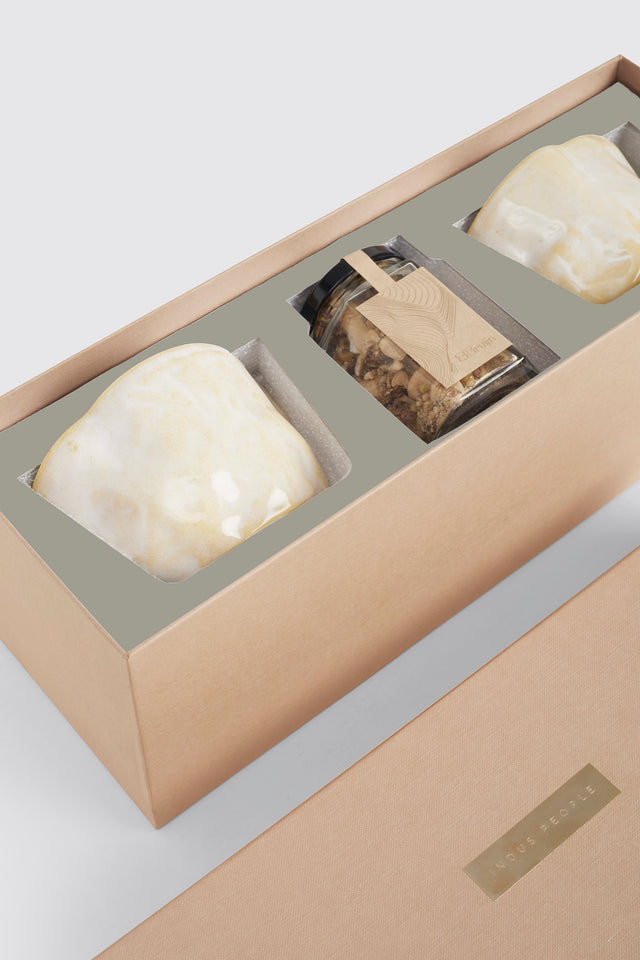 HIMALAYA MEDIUM BOWLS + BRUIJN
2 HIMALAYA MEDIUM BOWLS + 90g BRUIJN PRALINE CASHEWS
THE HIMALAYA MEDIUM BOWLS
Inspired by the colours and textures of the snow clad Himalayas, the Himalaya Bowl is uneven in shape and glazed with an ivory reactive glaze.
It is a perfect size for cereals, smoothie bowls, soups, snacks and desserts.
Diameter: 4.5 in. Height: 3 in.
Material: Stoneware
Wash and Care: Microwave and Dishwasher safe.
BRUIJN PRALINE CASHEWS
90g of sweet, savoury, Indian cashews with a caramel base encrusted with pistachio granules. Hand churned and dry roasted in small batches. Contains refined sugar. Gluten free. No added preservatives.
Consumption and Storage: Consume once opened and ensure the lid is tightly shut. Store in a cool, dry place away from direct sunlight.